Staging your home for sale helps it sell fast and potentially for more money. This is especially true for Marin County, Berkley, and East Bay real estate. In the desirable San Francisco Bay area, excellent staging can transform a space to make it seem bigger, highlight specific lifestyle opportunities, and help a property stand out online. The
National Association of Realtors
reports that 47% of sellers' agents agree that adequately staging a home can increase its value by 1% to 5%.
So what's the best way to stage your home? If you are not a natural decorator, hire a professional home stager for help. A good realtor familiar with your home and the
Bay Area market
will provide the best advice on what to do and where to look. Fortunately, there are plenty of staging steps you can take on your own to give your property a fresh look. You may find that simple changes that showcase the best parts of your residence are all you need.
Here are the top six staging tips for San Francisco homes to attract more buyers — and make your home look amazing.
Clean and declutter your home

The first step to properly staging Berkley, East Bay, and Marin County homes and condos for sale is to clean and declutter the property.


To set yourself up for staging success, thoroughly clean your house inside and out. This may require renting a power washer to scrub your home's exterior and hiring a cleaning company to deep clean every room. The cleaner the house appears, the more likely potential buyers will fall in love with it.


Another critical step in the staging process is
decluttering the home
. Keep the mantra "less is more" in mind when deciding what to keep and what to store or toss away. If a particular item does not serve a purpose, remove it. If you think furniture or decor may be distracting, put it in storage, sell, or donate it.
Potential buyers are looking for homes in this area with enough room to live comfortably. Properly cleaning your space (inside and out) and removing the clutter can help buyers get a better feel for the house's square footage and how it may fit their lifestyle.
Remove personal items

Potential buyers are looking for a house they can envision as their own, so removing personal items from the property will help make this possible. Make a sweep of your house or condo and take down personal photos, decor, and memorabilia. Buyers cannot fall in love with a home if they're reminded of another family living in it.
Adopt a neutral color palette
Bright color schemes are often loud and personal, which may chase away potential buyers. Realtors generally recommend sticking to a
neutral color palette
when staging Bay Area homes for sale. Neutral colors include black, white, brown, beige, gray, taupe, and cream. Leading paint manufacturers like
Benjamin Moore
and
Sherwin Williams
make these choices simple by providing color palettes assembled by color and design experts.
A cost-effective way to emphasize your home's best features is by giving each room a fresh coat of paint. Choose from one of the neutral color families above and begin to match the rest of the house to that color. Ideally, your furniture and decor will also work well with that color family.


Remember that color often evokes emotion, so think twice before making your choices. Generally speaking, warm colors evoke feelings of well-being and zest, whereas cooler colors provide a sense of serenity and relaxation.
Utilize natural light as much as possible

A poorly-lit room feels cold and uninviting. If windows are scarce or your home is located in a low-lying area where fog is expected, utilize light to brighten things up and showcase all aspects of your property. There are only two varieties when it comes to lighting: natural and artificial. While both sources have their uses and can work well together, natural lighting is almost always preferred.


Natural light is a feel-good elixir that bathes a room in sunshine. This type of lighting can make rooms feel bigger and more spacious. It has also been proven to
increase serotonin levels
in the brain, which means most buyers will feel happier in a brighter room. If a particular space doesn't have a lot of windows, you can try decorating with lighter colors, including furniture with metallic or glass finishes and moving pieces away from windows to let in more light. Bouncing natural light off mirrors can help, too. If you need to lighten a dark room with no natural light, then consider:
An overhead lamp that provides warm light without casting unwanted shadows.

Nightstand lamps or wall sconces brighten quiet corners without lighting up the whole room.

Freeing up your floor space to make the room appear lighter and more extensive.
Stage rooms around focal points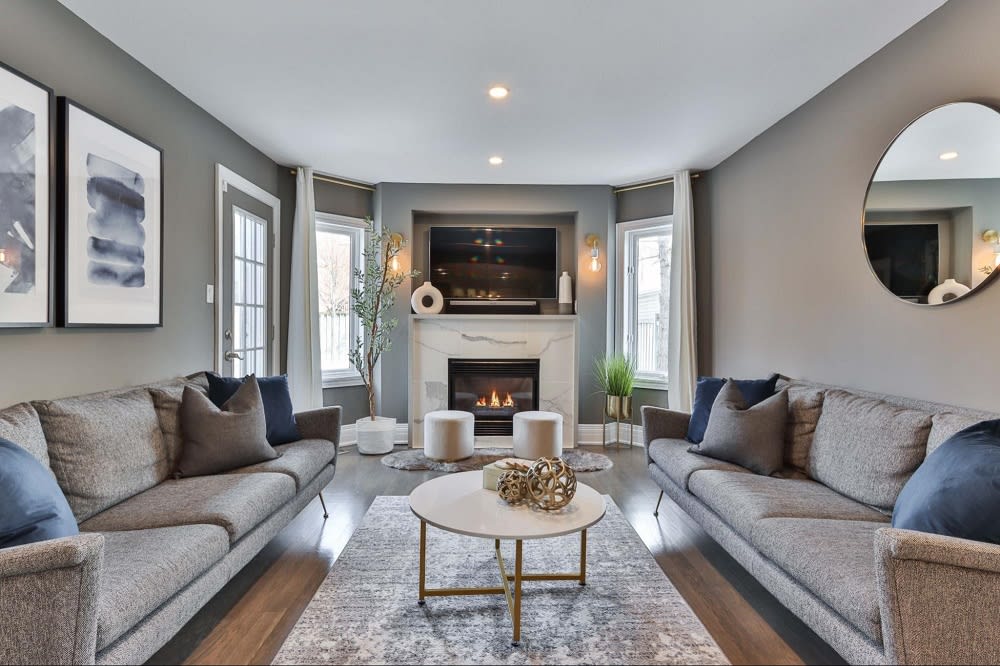 When staging Berkley houses, Marin County homes for sale, or East Bay real estate, realtors often use
focal points
to their advantage. A focal point is a part of a room that instantly draws your attention upon entrance. Because a focal point accentuates a room's best feature, you will want to keep these areas as attractive as possible.
Once you've determined the focal point of a room, arrange your furniture and decor in a way that draws the eye to it. This arrangement should be symmetrical and in line with the room's flow. Focal points could be anything — from works of art to sunny bay windows or intricate tile. Find your home's alluring feature and highlight it!
Use theming to your advantage

Realtors will often recommend incorporating themes into each room to give buyers an idea of how a buyer could use a particular space. For example, a realtor or decorator may add a computer desk and swivel chair to a nook or den, which a buyer could envision serving as their home office. Or, if they believe most potential buyers will have younger children, the realtor may advise setting up one of the rooms with a bunk bed and toy chest.


For example, staging an impressive primary bedroom with a king-sized bed and vanity can help buyers see themselves staying in that room. The same goes for the kitchen — a collection of high-quality pots and pans on display adds ambiance to the home while also offering a preview of what it could be like to cook in that kitchen.
Get help staging your house
Because staging your San Francisco house is so important, it only makes sense to get at least some advice from the professionals. Keep in mind that staging is just one of several parts of the
home-selling process
that a great agent will help you to follow. Realtors with years of experience staging Berkley houses, Marin County homes for sale, and East Bay real estate will be happy to share their tips with you.
When you're ready to assess, strategize and take your home to market in the most effective way possible, contact
Jess Williams
. Jess is a top-tier real estate agent serving San Francisco and the Bay Area for nearly 20 years with textbook-industry knowledge and a steadfast commitment to delivering customer results.